Processing lists of hundreds, sometimes thousands of keywords is a pain in the backside.
A novice view of keyword research is that you find lots of keywords, put them into a long list and then you use the list to monitor performance and make decisions about how to 'optimise' your digital marketing approach.
In actual fact, a long list of keywords on its own is next to useless.
It's useless because unless you've got all of the time in the world in addition to super-human mental processing power, looking individually at keywords and using them to make decisions is impossible.
To make keywords useful, you need context - that context is provided by organising keywords by theme.
For years, I've obsessed over how to accurately organise long lists of keywords at scale.
Sometimes I've done the task manually - combing through spreadsheets and assigning themes. It was time-consuming, but provided useful results.
I've experimented with spreadsheet formulas; the formulas use a reference list of words and then organise the main keyword list using this. This approach provides scale, but the results weren't always reliable and would require manual review.
I've also used numerous hybrid approaches.
Despite years of effort and experience, it remains one of the most frustrating parts of running a digital marketing strategy.
Why keywords are still important
Before we continue, it's worth outlining why this is still important.
Keywords are important because they provide insight into how your target audience requests information.
They aren't the only form of audience research you should rely on, but they remain a critical source of inspiration for marketers.
We use keyword data for a number of decisions when working with clients, but most commonly, they fall into two categories:
Using keywords to assist us in setting and monitoring the success of a content strategy (used to run websites and social campaigns)
Using keywords to assess paid search marketing performance
Example two is a good one to illustrate a very real part of the challenge.
For high-volume search advertisers; ie. people spending a lot of money on Google Ads, chances are you're allowing Google to use your keyword list to match with what the audience is searching for.
Because search advertising platforms use flexible keyword matching, the keywords you use in your account will almost certainly trigger ads for people searching for related things.
A lot of the time, this is a good thing, it acknowledges the fact that it's just not feasible to include every-single keyword in your account; you simple can't predict everything a person might search for.
Sometimes, however, adverts will be triggered for a search that isn't relevant.
For this reason, we run 'search term reports' so that we can see exactly what an audience has searched for.
We use this report to assess where budget is being spent, where it's working and where it's not. We use it to pick out new themes we hadn't considered before so that we can spin-up new ad groups. We also use it to spot rogue keywords so that we can suppress anything unwanted.
For a large account, that process (when run manually), takes an age.
Despite the time it takes, it can't be skipped. It's fundamental to improving the performance of a paid search campaign.
Using AI to process the search term report
AI is hype fuel. There's no shortage of life-changing claims outlining what it can do.
It's nice, therefore, to provide a very real and fairly mundane but important use case for AI.
With very little work, ChatGPT can be used to process hundreds of keywords, organising them into meaningful theme-based groups.
The prompt

The result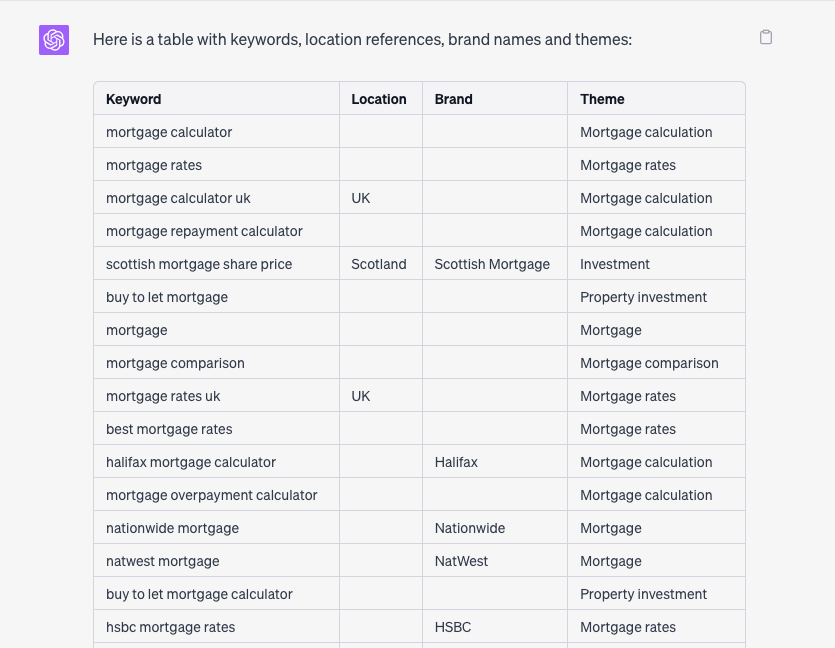 Within seconds, we can take a long list of keywords and give it meaning.
The power of this? We can combine it with data:
Search volume
Rankings
Landing pages
Clicks
Impressions
CTR
Cost
Conversions
We can summarise these data by theme, location and brand.
This turns a list of individual keywords into groups from which we can make decisions.
The power that this provides organised marketers cannot be overstated. It saves time on the manual part, freeing up time for decision-making. It's a marketing utopia.