Many people have asked me over the years where the name Indulge comes from. The story starts 17 years ago when I first had the idea of running an agency called Indulge Media, years before it became a reality in Guernsey.
The name Indulge originated from an events company a friend of mine owned in London called The Indulge Collection. He was an amazing chef, trained at The Savoy and once had the privilege of cooking for Queen Elizabeth II. His events company ended and we started talking about running a media agency in London, there were a few of us onboard with the idea. Standing outside the offices where I worked as a designer near Chelsea harbour I came up with the name Indulge Media, taking the old events company name. We even incorporated the company at Companies House. But it was impossible working full-time and trying to start an agency, the idea fizzled out.
A few years later, an old school friend of mine Pat Cunningham contacted me to start up our own agency. By this time I already had a few clients interested in using Indulge Media for web services through a Gumtree advert I placed. We decided to use the name and brand Indulge Media, mainly because we couldn't think of anything else and the brand was already designed. My father also passed away around this time and moving back home to Guernsey to be with my mum and siblings while making the agency dream a reality was too tempting to turn down. I left my job in London and was soon sat at a desk in Guernsey with Pat staring at a blank whiteboard. The agency was born and we never looked back, turning it into a successful business that continues to grow from strength to strength.
Here are the sketches for the first Indulge website that Pat and I thought up while on a train going up to our first client meeting in Pinner, London in December 2008.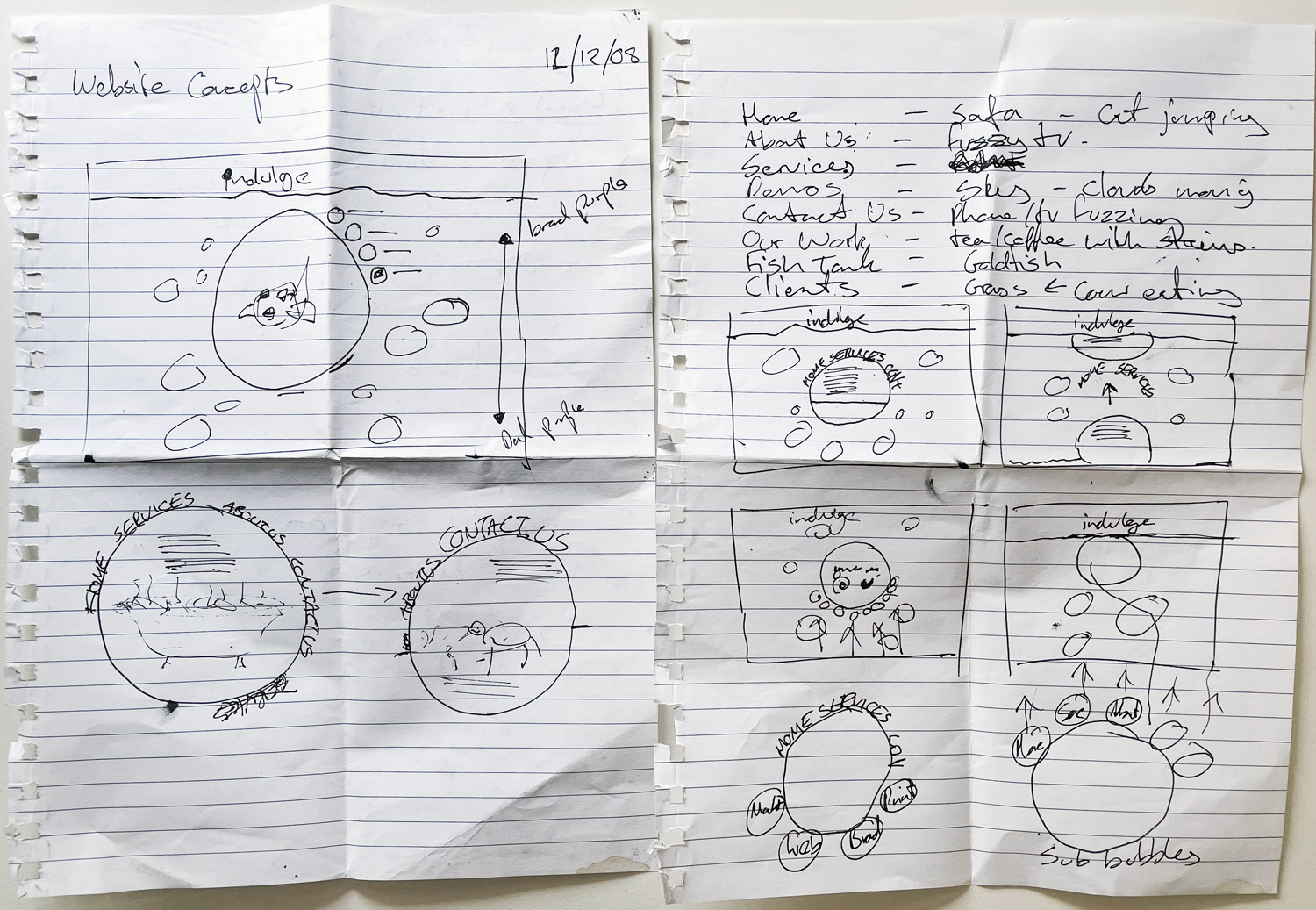 Here is a video of the first Indulge Media website in action!
I'm now taking another plunge, creating a UX brand that specialises in a few core UX research methods driven by its own custom applications. The applications will also be available to use in the wider market and hopefully if we can figure it out, harness AI or automation to some extent. I'm working on the brand and coding up a simple website, which will not be designed in a circle (never again!). Watch this space for more details about the concept in the new year.